Auricle Collective Festival of Lights
Sat. Nov 11, 2023 7:30pm - 10:30pm PST
Event Description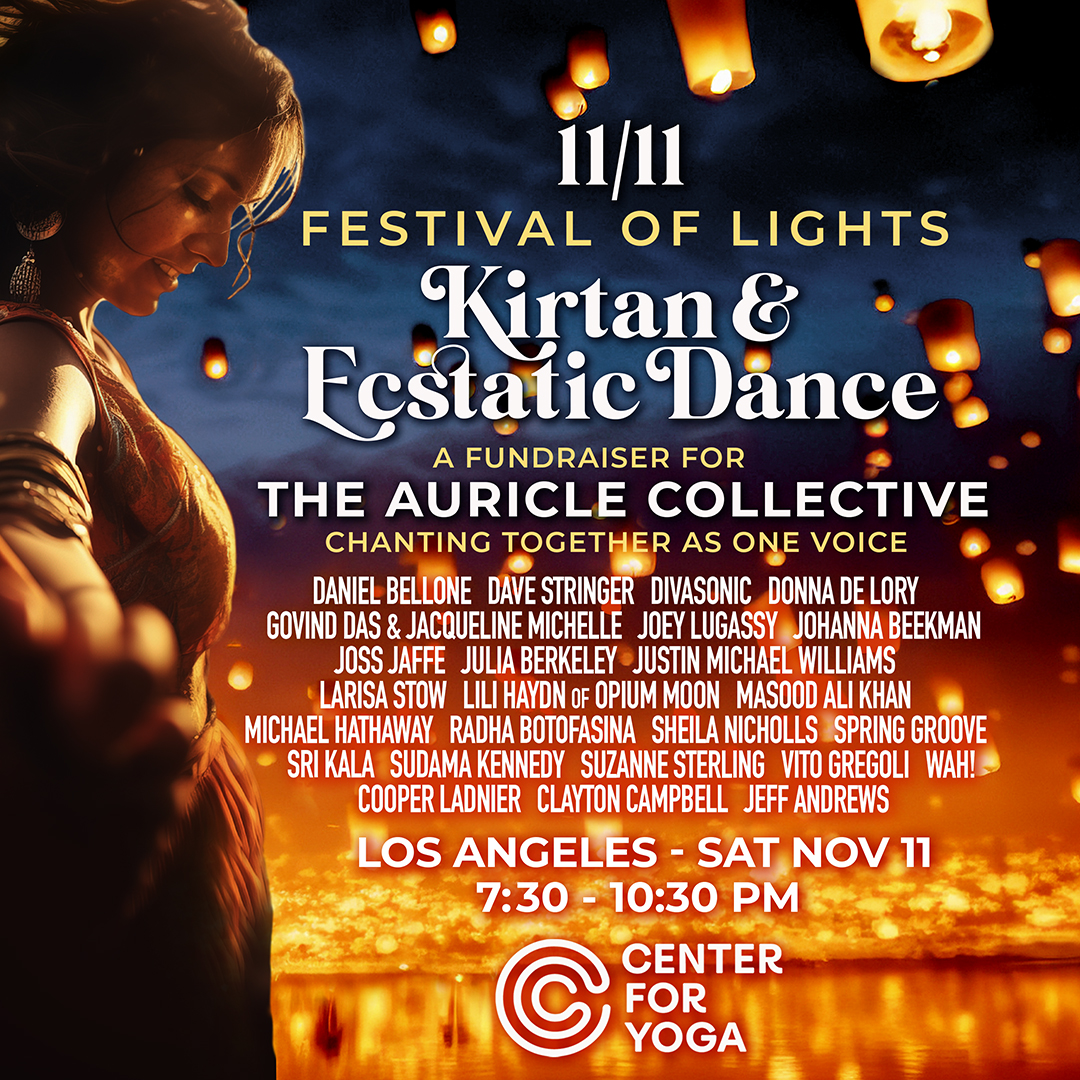 Auricle Collective
Festival of Lights
You're invited to support an exciting grass-roots community effort to elevate chant and spiritual musicians and their music. This fundraiser will help build a supportive infrastructure for independent chant and spiritual artists that has never existed before.
Our message is Community and Collaboration. Singing together, we transmute pain into joy, and division into unity. The message of our music informs the method of our work together.
Confirmed artists for the 11/11 Festival of Lights include:
Daniel Bellone • Dave Stringer • Divasonic • Donna DeLory • Govind Das & Jacqueline Michelle • Joey Lugassy • Johanna Beekman • Joss Jaffe • Julia Berkeley • Justin Michael Williams • Larisa Stow • Lili Haydn of Opium Moon • Masood Ali Khan • Michael Hathaway • Radha Botofasina • Sheila Nicholls • Spring Groove • Sri Kala • Sudama Kennedy • Suzanne Sterling • Wah!
Auricle co-founders Dave Stringer and Suzanne Sterling and Sri Kala will Emcee the event. In joyful unity, the artists will be singing as an ensemble with a live audience in a series of Kirtans based on traditional Indian melodies, accompanied by drummers Cooper Ladnier, Clayton Campbell and Jeff Andrews.

Ticket revenues and donations will:




Support development of a new website and app that will be an unprecedented hub for chant and spiritual music, including a search function to find local Kirtan groups anywhere in the world. Auricle will also launch a Frequent Chanter program that will reward fans with free tickets and other benefits.




Highlight the experience and benefits of chanting and make the practice more accessible for everyone.




Support independent chant artists to thrive within, instead of being exploited by the corporate digital music world.




Create resources and structures for spiritual artists to work together



Tickets to the live event in Los Angeles include full access to a collection of exclusive video performances by Auricle artists.
Center for Yoga
Established in 1967, the Center for Yoga is the longest continuously operating yoga studio in Los Angeles, located in the lively district of Larchmont Village, adjacent to Hollywood and Hancock Park. https://centerforyogala.com/ CFY is graciously contributing the use of their space to the Auricle Collective for this fundraising effort. If you live in Los Angeles, the beauty and history of the yoga practice rooms is legendary. You are welcome to use the code CFY15 to take $15 off the monthly unlimited class rate and CFY40 to take $40 off the 10 class pack.

The Auricle Collective


The Auricle Collective is a community of musicians rooted in singing, chanting and music as art and spiritual practice.
1. The part of the ear that collects the sound waves
2. The chamber of the heart that opens to let freshly oxygenated blood in
3. A homonym for Oracle, a person or thing serving as an agency of divine communication

The music we make is rooted in spiritual traditions and practices from across the globe and in many different languages. We represent a web of connection and support for music that is participatory, devotional and has the intention of shifting consciousness. We understand that within this community there are many different ideas and pathways to Devotion. It is also our sincere hope that we are creating a platform for healthy and respectful conversation and dialogue about honoring the roots of chant traditions worldwide, innovation and evolution of music and culture, joyful cross-pollination amongst artists, and how we might all unite to be a force for change. We trust that we are all connected by the thread of sacred music as a spiritual path.Perhaps some of your favorite musicians are here. Perhaps there are many others here you will discover whose music will uplift and move you! Find out more at www.AuricleCollective.com Additional donations are gratefully accepted.