Connecting to the Divine Mother
Get Tickets
Details
Comments
Event Description
FREE LIVESTREAM EVENT
Sunday, February 5th
9:00 am Pacific • 12:00 pm Eastern
Join us for a free satsang with Ramakrishna where he will introduce the process for connecting to the Divine Mother through the Sri Chakra Process.
The knowledge of the Sri Chakra is a core understanding of advanced spirituality. The Sri Chakra Yantra is the home of Mother Divine, it is the Mother's energy structure and Her creation mechanism. Practicing these divine channels awakens the same creation energy within us so that we can use them. 
Understanding the Sri Chakra prepares you for the supreme stages of connecting directly to Mother Divine, having darshan of Her in both energetic and physical forms. 
Enlightenment, healing, consciousness, blessing the fulfillment of material and spiritual desires, the Asta Siddhis, Brahma Consciousness, Soul Astrology, and Soul traveling are all aspects of this system.
"For anyone who wants to win Mother Divine, even a powerful healer, saint, or siddha, has to go through the Sri Chakra. You need to be able to access the Sri Chakra's energy, to carry that divine soul fragrance. Then your life becomes a beautiful gift to the world. You are then able to serve and fulfill the needs of those who come to you in a very powerful, effective way."                       
- Sri Kaleshwar
Learn More: https://www.paramashiva.org/sri-chakra-process
---
Ramakrishna Ananda

Ramakrishna teaching during Shivaratri, Penukonda, India.
Ramakrishna spent 15 years living in India and studying at the feet of an enlightened master, Swami Kaleshwar. Sri Kaleshwar's life mission was to release the top ancient knowledge that has been alive for thousands of years but kept hidden, being passed to only one or perhaps two students through a continuous lineage.  
Sri Kaleshwar said we are now entering the darkest part of the darkest age of humanity and that this needed knowledge belongs to humanity as a whole, not a select few.
Through sharing what he has learned Ramakrishna's ambition is the same as Sri Kaleshwar's: To spread this knowledge to help the world and to create spiritual masters, not students.
He offers online weekly satsangs, apprenticeship programs, spiritual counseling, power journeys to India, and in-person retreats at the center in Blanco, TX.
To learn more about the Paramashiva Healing & Enlightenment channels, please visit www.paramashiva.org
---
Sri Kaleshwar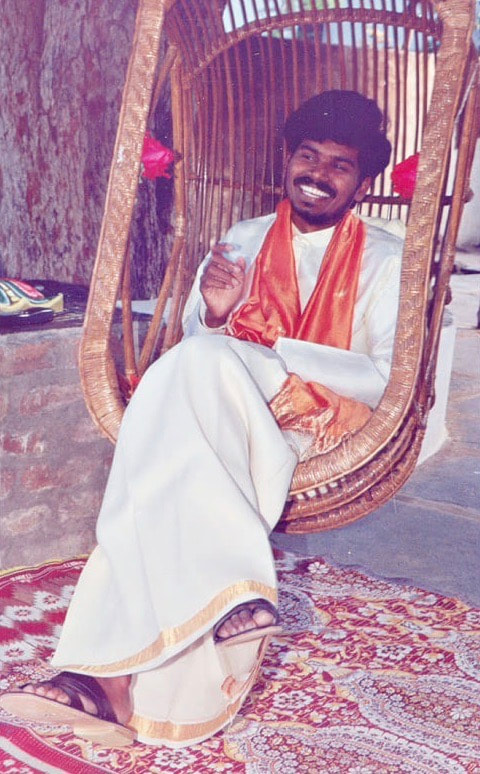 Sri Kaleshwar Swami is a modern spiritual master in the lineage of Shirdi Sai Baba, Jesus Christ, Mother Mary, Babaji, Ramakrishna Paramahamsa and Ramana Maharshi. In 1998, Sri Kaleshwar received permission from the Divine Court of spiritual masters, including Shirdi Baba, Jesus, and Ramakrishna Paramahamsa, to teach Western students this knowledge.
Sri Kaleshwar said now is the time to make the ancient knowledge readily available to help heal the world's suffering and transform the way spirituality is practiced on the planet
Enlightened as a boy, his mission was to reveal the ancient knowledge of the palm leaf manuscripts that up until then had been kept secret. The palm leaf manuscripts contained the mysteries of Creation, such as the mechanics of miracles and healing, how to create divine children, and numerous ways to achieve direct experiences with the divine. They contain sacred formulas that when correctly practiced awaken the incredible capability hidden within each soul.
"Every soul has the potential to reach the level of a Shirdi Baba or Jesus and contribute amazing things to the world."   - Sri Kaleshwar