G-Fest After Party July 2021
Mon. Jul 26, 2021 at 6:00pm - Tue. Jul 27, 2021 at 1:00am PDT
Get Tickets
Details
Comments
Event Description
Join us for the G-Fest After Party, A Celebration of the Goddess, Monday July 26th, 2021, 6pm-1am. Participate in our Opening Circle: Authentic Relating, Deepening  Connection with Rani Joy, followed by Sacred Medicine Music with Sydney Leigh. Prepare to open your hearts and activate your voice with the Goddess Rising Family Kirtan led by Jens Jarvie, Joss Jaffe, Reya Manna, Annmarie Soul & special guests. 
Next, get ready for the Soul Bath Experience and dance to the beats of Gina René & Million 7. We will have a late night candle lit sacred fire and song circle where you are welcome to participate and share your music and your creative gifts. Enjoy the Luscious Lounge, Vendors and more with Camping available at a beautiful venue with full facilities just one mile from Castle Lake. 
All are Welcome! We look forward to celebrating with you this summer!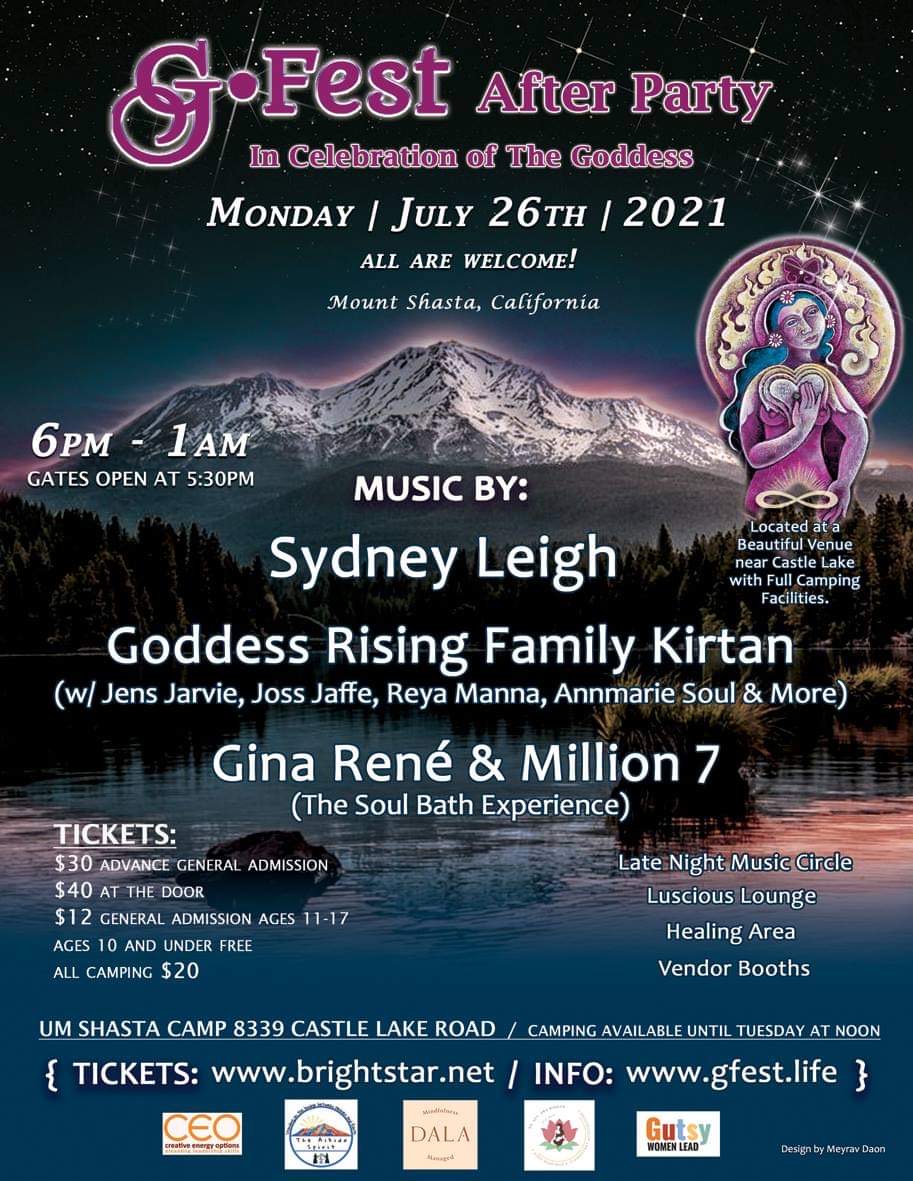 Schedule 
6:00 -6:40 Opening Circle: Authentic Relating, Deepening Connection with Rani Joy 
6:50-7:30pm Sydney Leigh, Sacred Medicine Music 
7:45-9:45 Goddess Rising Family Kirtan 
( Jens Jarvie, Joss Jaffe, Reya Manna, Annmarie Soul & More) 
10:00-11:30 Gina René & Million 7, The Soul Bath Experience 
11:30-1:00am Sacred Fire & Song Circle 
Gina René & Million 7- The Soul Bath Experience
A Soul Bath is a unique vocal & musical experience curated by singer/lyricist Gina René and producer/keyboardist/drummer Seth "Million 7" Theodore out of Santa Cruz, CA.
You can think of The Soul Bath Experience as a deep, soulful, live dub concert meets an intuitive vocal channeling that travels along the rhythm spectrum from soothing to sensual to uplifting, and inspirational danceable rhythms. Although both musicians hail from a wide variety and blend of musical backgrounds from R&B/Soul/Gospel to Reggae to Hip-Hop, Jazz and improvisational styles -what these two share most in this arena is a more devotional side of their soulful musicianship informed by both personal & Universal spiritual themes and revelations. Get ready to Release, Relax & Rise up!
Jens Jarvie is a passionate kirtan artist. His chanting, kirtans and original conscious lyrics will inspire you to take flight in the vastness of the heart. His songs invoke healing and transformation, inviting you on a journey of depth and transcendence. Jens's music is about celebration, embodiment and remembrance. 
www.jensjarvieandtheheartwideopen.com 
Joss Jaffe is a vocalist, tabla player, multi-instrumentalist, composer and record producer. His critically acclaimed albums include Dub Mantra, Svaramandala and Top-10 Billboard new age album Meditation Music. Joss' music ranges from modern pop, reggae, electronica and world to ambient, soothing and brain wave entraining music for spa, relaxation, yoga and meditation. He is a regular performer and workshop leader at premiere yoga conferences and transformational festivals including Lucidity, Beloved, Wanderlust & Korea Yoga Conference.Top-10 Billboard [New Age] Artistjossjaffe.com
Annmarie Soul is a yoga teacher, healer, and singer-songwriter bringing light to this planet through the healing power of music, prayer, and connection to the divine. www.Annmariesoul.com
Reya Manna began singing before she could speak and became deeply connected with devotional practices and a profound love of the Divine from a young age - which lead her to meditation, psychology, mantra, shamanism, yoga, energy healing, sound healing, ancient wisdom practices and deep love of the earth & of the Divine Mother. Seva means Divine Service - and this has been Karen's life path. www.reyamanna.com
Sydney Leigh has dedicated her life to the medicine of Sacred Music for healing.  Traveling far and wide to connect with Wisdom Keepers and Community to cocreate and share her musical soundscapes. She is living the intention of healing thru Spirit & Prayer to Awaken the Heart.
Her songs stream from deep pools of her own healing journey infused with elements of blues, folk and indian influences.  As a song writer, she believes there is a beauty in telling stories that spark a relating to all people, and empowers an emotional experience.  She finds that music holds an essential key to digesting the unrest and injustices of our world and allows a deeper space for healing. www.sydneyleighmusic.net 
Rani Joy has been leading embodiment practices since 1997. She has a Master's Degree in Transpersonal Psychology and is a Hakomi Practitioner (Somatic Therapy), Transformational Life Coach, Yoga Teacher, Bodyworker & long time dancer.  Inspired by over two decades of devoted study and practice in the Healing Arts~ Her offerings offer a safe, engaging, and welcoming space to dive into deeper self-discovery, embodiment, connection, and play!
Authentic Relating is an engaging practice where we share with each other in a real, vulnerable, open hearted, loving and present way supporting feeling more seen, gotten  and deeply connected to ourselves and each other!