Kirtan Love Fest 2.0 - Miami
Sun. Nov 24, 2019 at 5:00pm EST
Get Tickets
Details
Comments
Event Description
presale has concluded but tickets are still available at the door !
Wynne Paris and friends are back at Inhale Miami for Kirtan Love Fest, a 5 hour joyride of spiritual song and dance.
Kirtan Love Fest brings 5 amazing acoustic and electronic kirtan groups, along with dance performances and live painting, together for a 5 hour joyride of kirtan, Mantra music, ecstatic dancing and chanting.

Bring your dancing shoes, open hearts, joyful voices and musical prayers.
about the artists:

Wynne Paris is kirtan pioneer who has performed well over 2,000 kirtans. After years of playing as a pro rock musician, the seeds of Karma bore fruit in the mid 90's, when he was invited to sit in for a kirtan with Amma the hugging saint. In 1997, Wynne began collaborating with Krishna Das and appears on several of his albums (Pilgrim Heart, All One, etc). Since then he has been a tireless proponent of chanting. His music has been featured on radio, tv and film. Wynne is a co founder of the Lovelight Yoga & Arts festival, which may be the mid Atlantic's grooviest yoga Fest.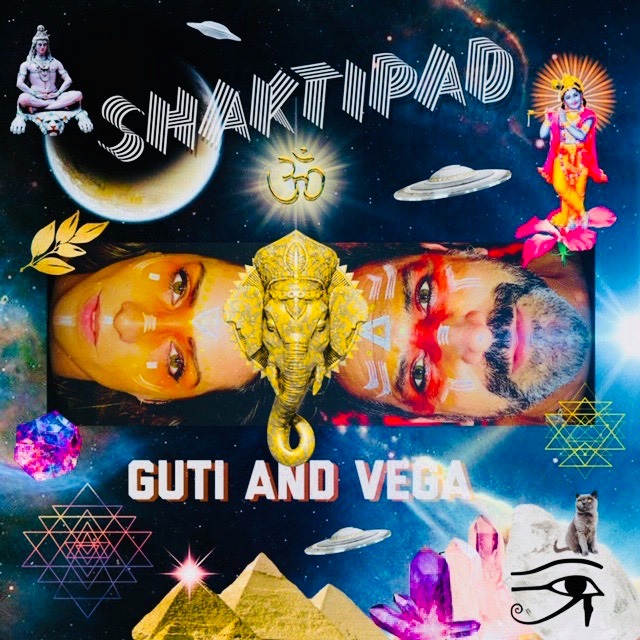 Anya Guti is a yoga teacher, mystic and artist, dedicated to collective and personal evolution through spiritual awakening and yoga. Tato Vega is an embodiment of high vibes and happy grooves. He has been a lead singer and percussionist all his life in many rock and roll bands. Together, Guti and Vega channel a higher frequency energy and mystical mood in their music, creating an enchanted and sacred experience that enables individual and a group consciousness to heal, reconnect and transcend to higher and happier state.
MANTRA GROOVES is a Miami based electronic kirtan band that delivers spiritual music with a funky and electronic style. Led by Karen Thomas Gonzales, the Grooves take you to exalted places in the heart and beyond.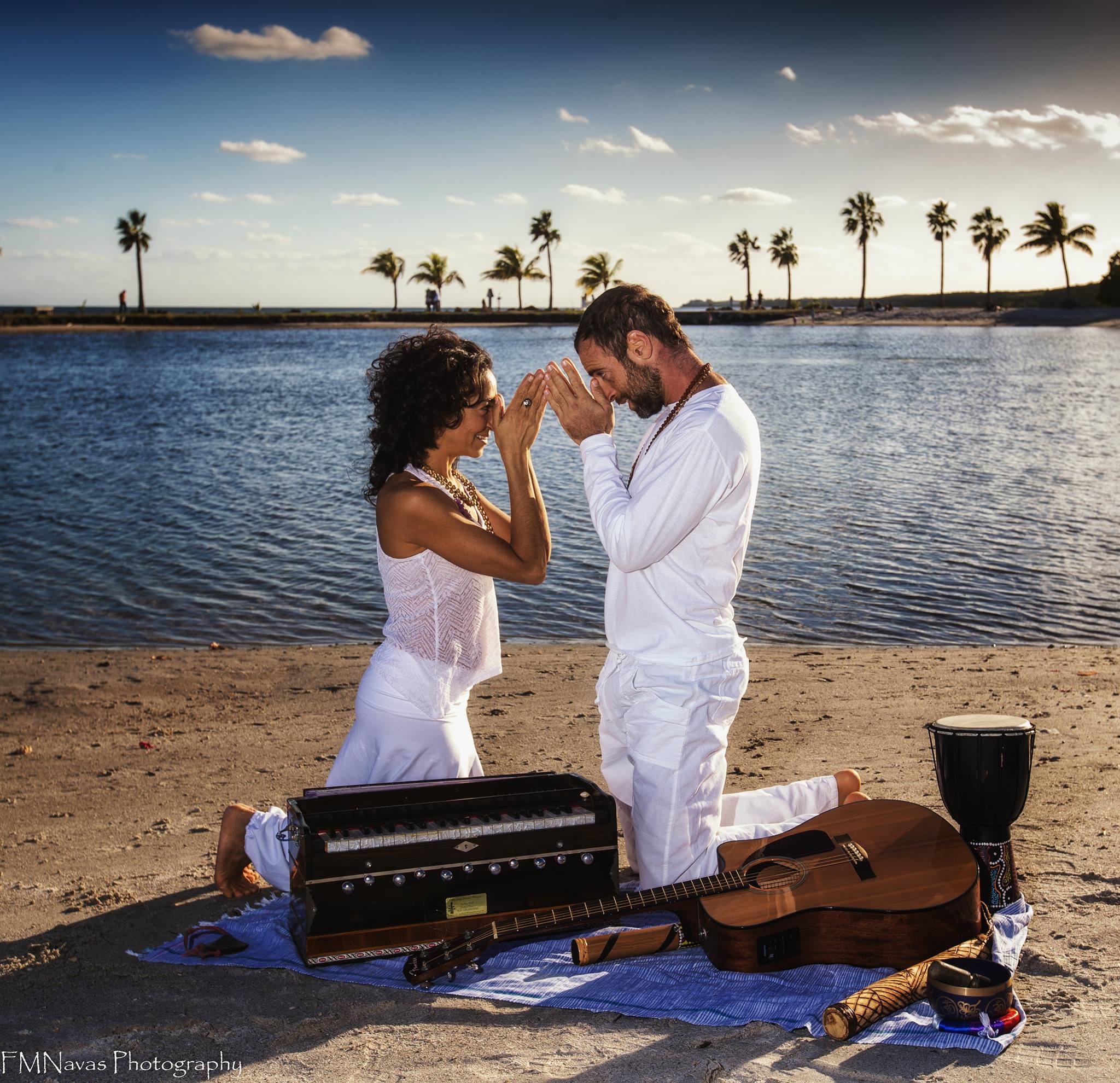 RADHA & BENJAMIN are dynamic kirtan duo that are the owners of Lightrail Yoga and are devoted performers of Kirtan and yogis. Their kirtan features heartfelt vibes and high energy chants that invoke the 'rasa' or the feel of India and the 'Bhava' or the divine mood that's created by chanting the sacred name. Benjamin is a skilled guitarist/singer and Radha leads the chanting and plays harmonium.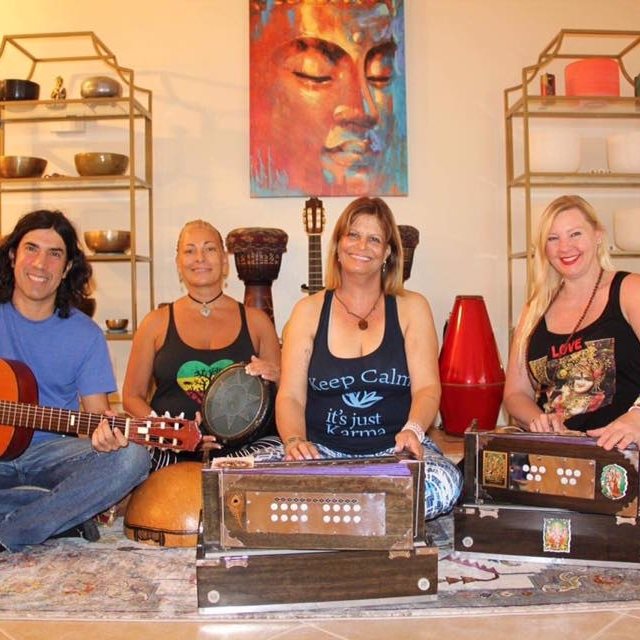 MYSTIC MANTRA BAND performs traditional Kirtan and infuses world, folk, medicine, and tribal elements into their music.
The band delivers a unique blending of vocal harmonies and instrumental sounds, using a mix of traditional Kirtan instruments along with percussion, Native American, and sound healing instruments to create an experience of connection with the heart and soul.
The seeds for Mystic Mantra were planted in 2017. In a different incarnation, the band has performed at several venues including the Virginia Key Grassroots Festival and the South FL Yoga Expo.
Band Members:
Ivonne Hernandez -Harmonium, Kartals, Doumbek, Tamboura, Didgeridoo, Flute, Tambourine, Calabash Drum, Tibetan & Quartz Bowls, Gong, Vocals
Malgorzata Biardzki -Harmonium, Kartals, Tambourine, Tibetan & Quartz Bowls, Native American Frame Drum, Gong, Vocals
Grecia Garrett -Tablas, Mridangam, Kartals, Djembe, Cajon, Doumbek, Ocean Drum, Chimes, Rain Sticks, Shekere, Vocals
AtonRa RAdanatha is a painter, musician, percussionist extraordinaire, dancer and general lover of life.
Victoria Brunacci is the Director of Synergy Yoga on Miami Beach and leads Yoga Training s and retreats worldwide. Victoria was raised in the mountains of Brazil learning to understand and respect the laws of nature and Divinity. She is certified in Swami Sivananda's Integral Yoga, and traveled extensively through India studying in Mysore the Ashtanga Vinyasa system at Sri K. Pattabhi Jois'Yoga Research Institute.
Victoria is also certified as a Reiki Master level III, Acupressure/Shiatsu and Thai Massage where she studied under master Michael Buck of the Vedic Conservatory. She is a 500 hrs yoga Alliance Certified with specialization on B.K S. Iyengar Therapeutic Method.She recently got certified in Universal Yoga, method from Andrey Lappa. Today, her teaching style enjoys influences from Universal yoga, Jivamukti Yoga, Dharma Mittra & the Ashtanga Vinyasa system. Victoria has her own Yoga TV Show with Intinetwork.net, a holistic Spanish channel, call " Destinos Yoga". Victoria has a passion for teaching Kids Yoga and is a true Bhakti Yogi, with an intention of bringing awareness and raising consciousness on the planet, one soul at the time.
NAOMI SERRET is a dancer and the founder of Vie Boheme productions, a group that unites creatives across multiple platforms; artists, musicians, dancers, producers, filmmakers, and writers; bringing them together to design, produce, and host unique events throughout Miami
advance tickets $20 through Brightstar tickets
$30 at the door
Join the Conversation
Follow the event with #lovelightfest