Maestro Ali Akbar Khan's Centennial Concerts
Sat. Apr 16, 2022 7:00pm - 11:00pm EDT
Event Description
Kicking Off a Year of Celebration for Maestro Ali Akbar Khan's Centennial
Some of Indian classical music's brightest performers are joining together to celebrate Maestro Ali Akbar Khan's 100th birthday. The first concert—in what will be a year-long series of events—begins on Saturday, April 16th. These online performances are a tribute to the life, teachings, and music of Maestro Khan, one of the greatest sarod players and musicians of all time.

This event will begin with a sarod alap invocation (solo) by Maestro Khan's son, Alam Khan - one of the leading exponents of sarod. Following this will be a vocal performance by the illustrious, Kaushiki Chakraborty, who will be accompanied by tabla virtuoso, Ojas Adhiya, and on harmonium by the acclaimed, Ajay Joglekar. The finale for the evening will be the esteemed sitar maestro, Kushal Das, who will be accompanied by world-renowned tabla master, Anindo Chatterjee. 
These performances are hosted by Maestro Khan's school, the Ali Akbar College of Music—a non-profit organization seeking to spread the teachings of this ancient tradition to any and all who wish to learn. For more information about upcoming events throughout this Centennial year, please visit aliakbarkhan.com.

---
Son of the legendary Sarod Maestro Ali Akbar Khan, Alam Khan has been touching the hearts of audiences worldwide for many years. Since his initial training into the Maihar Seni Gharana at the age of seven, Alam was blessed to learn and live in the traditional style of Guru and student.  Ali Akbar Khan's careful crafting and guidance show in each note as well as in Alam's imaginative way of expressing the ancient ragas passed down from the courts of Emperor Akbar by Mian Tansen in the 16th century.
Alam's performance career was introduced to the world when he began accompanying his father onstage, internationally, from 1996 to 2006. They played in such prestigious venues as the Royal Jodhpur Palace, the Dover Lane Music Festival in Calcutta, and New York's Lincoln Center Jazz festival, as well as highly acclaimed concerts all over the United States, Canada, Europe and India.

More at alamkhan.com
---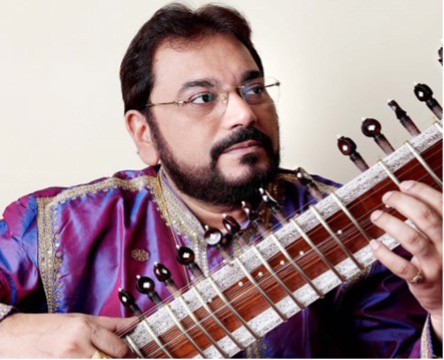 Pandit Kushal Das is a leading master of both the sitar and surbahar in India today, with a style that builds on Pandit Nikhil Banerjee's Maihar repertoire. Kushal was born in Kolkata in the year 1959, and hails from a family of musicians—his grandfather, the late Bimal Chandra Das, was a famous Esraj player, and his father, Sri Sailen Das, and uncle, Sri Santanu Das, are highly recognized sitar players. Kushal received rigorous training in advanced sitar styles and the art of music under the tutelage Professor Sanjoy Banerjee and Pandit Ajoy Sinha Roy. He began his study of the surbahar in 2002.
In order to accomplish a more profound understanding of Raga interpretations, Kushal took additional vocal lessons with Pandit Manas Chakraborty and Sri Ramkrishna Basu. Kushal has performed in almost all the famous Music Festivals in India and has also traveled widely all over the globe. He is a Top-Grade musician of All India Radio and Doordarshan—the leading media regarding classical Indian music in India.
---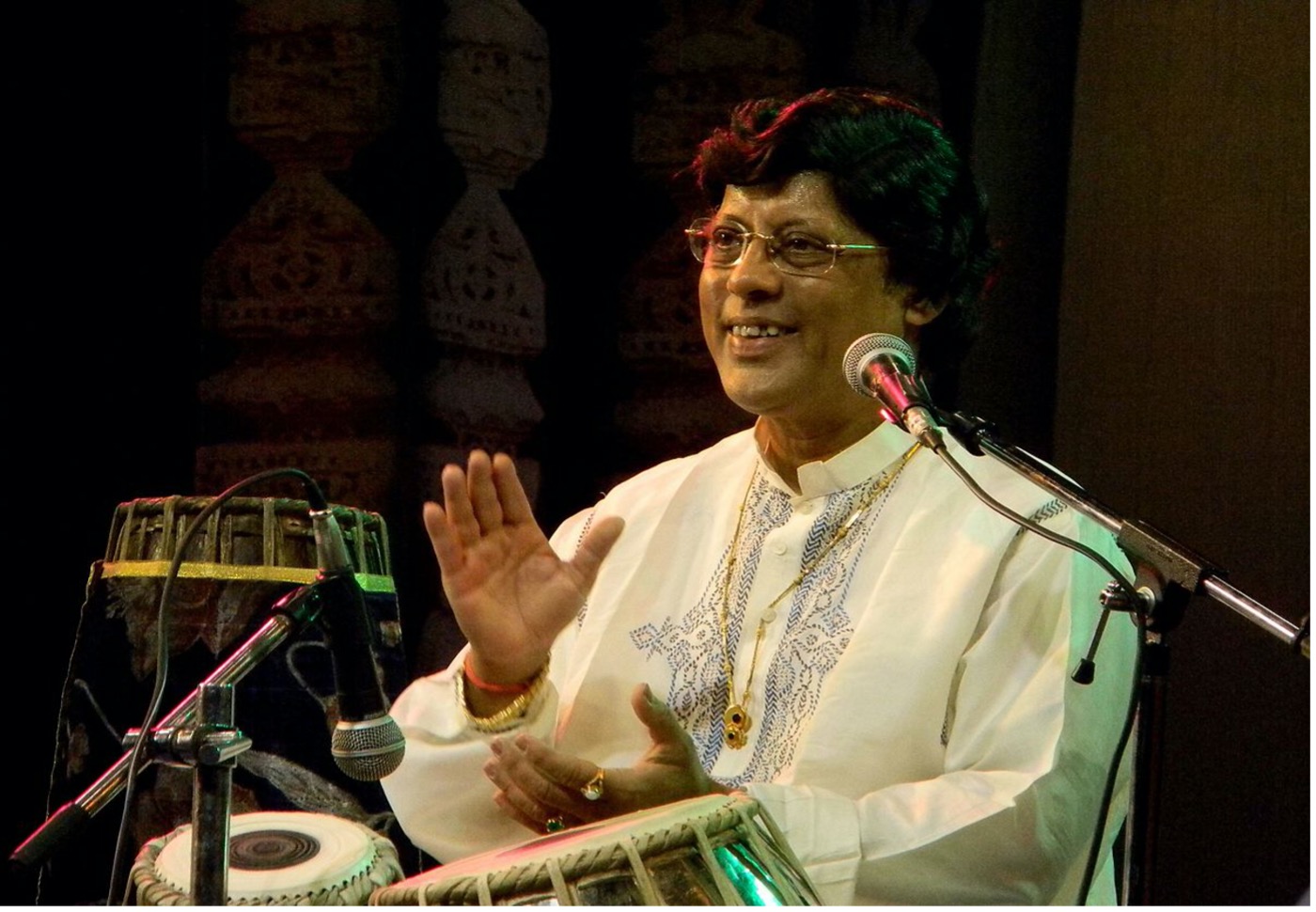 Pandit Anindo Chatterjee is one of the most accomplished tabla players of the modern age, known for his breathtaking speed and extraordinary clarity of stroke. His studies began at the age of five, under Ustad Afaq Hussain Khan of the Lucknow gharana. At that same age, he became All India Radio's youngest performing artist, and soon after entered the gurukul to train under Pandit Jnan Prakash Ghosh. He studied with his guru for three decades, learning the intricate grammar of the Farukhabad gharana before branching out to others.

Today he plays a gharana-blending style that balances traditionalism with modern freedoms, building on the open-minded approach of his guru. Outside performance he is a respected teacher, researcher, and tabla maker.
---
Kaushiki Chakraborty could reproduce Hindustani classical vocal patterns at the age of two. Maestros visiting the ITC Sangeet Research Academy (SRA), where Kaushiki grew up, soon discovered a new game: they would hurl the most complex of patterns at her, using only the 'aa' vowel instead of pronouncing the notes, and wait for her to identify the notes and reproduce the patterns. This is something she could do instantly and consistently. It would not be an overstatement to assert that Kaushiki was a child prodigy. However, unlike many prodigies who flicker but fail to flourish, Kaushiki kept her promise.

At 12, she was a scholar at the ITC SRA; at 14, she was on a 50-concert tour in the US with her father and guru, Pandit Ajoy Chakraborty; at 16, she took the world of music by storm with her first solo concert in Delhi; and by her early twenties she was being hailed as the brightest young female vocalist of her generation. Over the last decade, she has successfully obliterated the gender qualifier. Connoisseurs agree that Kaushiki is, quite simply, the best Hindustani vocalist of her generation today.
---
Ojas Adhiya was born in Chikhli, Maharashtra State, and is hailed as a musical child prodigy. His father, Dr. Yogesh Adhiya, spotted his child's keen interest in percussion at the tender age of 2, watching him at Siddha Yoga Guru Swami Muktananda and Gurumayi Chidvilasananda's chanting and meditation center. At the age of 5, Ojas was sent to study with Shri Mridangraj, where Ojas learned the traditional practices of tabla playing, including accompaniments. There, he became a disciple of Shri Mridangraj ji.
Ojas has performed with world renowned fusion band SHAKTI, with maestros John Maclaughlin, Shankar Mahadevan, Selva Ganesh and Ganesh Rajagopalan. He has been fortunate to accompany many world class artists over his career thus far.
---
Ajay Joglekar has a natural gift for Harmonium playing. He has been performing and arranging music for the last 20 years. Through his dedication and practice, he has created a style and technique that is uniquely his own. Ajay has undergone training from renowned Harmonium player Pandit Tulsidas Borkar for many years. He has also been in association for many years with internationally acclaimed Indian classical vocalist, Pandit Ajoy Chakrabarty—accompanying him on the Harmonium in his major concerts both in India and abroad.
During his career, he has had many opportunities to accompany (both on Harmonium and key board) great artists, such as: Pandit Jasraj, Gansaraswati Kishori Amonkar, Ustad Zakir Hussain, Bharatratna Ustad Bismillah Khan and Lata Mangeshkar, Suresh Wadkar, and famous Ghazal singer Gulam Ali.
---
Ali Akbar Khan (known more familiarly as Khansahib) was regarded as a "musician's musician." He was the master of the sarod (a 25-stringed, fretless instrument), in the Maihar gharana (ancestral tradition), and was known for his incredible breadth of artistry and knowledge. He was born in the village of Shibpur, in present-day Bangladesh on April 14th, 1922, and was raised by his father, Acharya Baba Allauddin Khan, and his mother, Madina Begum.
Khansahib began his studies with his father at the tender age of 3, learning vocal music. The classical music of North India is among the oldest continual musical traditions in the world, dating back thousands of years, and his father is acknowledged as one of the greatest figures in North Indian music of all time. Their family traces its gharana from Mian Tansen—a 16th century musical genius and court musician for Emperor Akbar—to Mohammed Wazir Khan, who was court musician of Rampur State and Baba Allauddin Khan's guru. In olden times, this music was considered close to magic; there are many accounts of it healing the ailing, as well as starting fires and bringing rain. The music could be used as medicine, and for this reason it must be studied seriously and with intense dedication. 

Khansahib would go on in life to be awarded the Padma Bhushan, the third-highest civilian award in India, followed by the Padma Vibhushan, the second-highest. In 1971 he performed at Madison Square Garden for the Concert for Bangladesh, along with Ravi Shankar, Alla Rakha, and Kamala Chakravarty; other musicians at the concert included George Harrison, Bob Dylan, Eric Clapton and Ringo Starr. Khansahib received the illustrious MacArthur Fellowship in 1991—the first Indian musician to be awarded the "genius grant." In 1997, Khansahib received the National Endowment for the Arts' prestigious National Heritage Fellowship; this is the United States' highest honor in the traditional arts. He also received five Grammy nominations over the course of his life.
For more information about Khansahib's incredible life and works, please visit aacm.org
---
About the AACM
The Ali Akbar College of Music was founded in 1967 by the legendary sarod Maestro Ali Akbar Khan, in Berkeley, California. The following year, it was relocated to Marin County—eventually landing in San Rafael, where it has remained.

During Ali Akbar Khan's career, he often dreamed of being able to open a school of music; an institution where musicians and music lovers alike could exist together and be surrounded constantly by their shared interests. After opening his first school in Calcutta in 1956, Khansahib was drawn to California and the incredible interest he found when visiting the Bay Area. It was his father, the esteemed Acharya Baba Allauddin Khan, who instilled in Khansahib the importance of spreading and teaching this music to any and all who wish to learn. His influence was the basis for Khansahib's vision and remains as the mission statement of the AACM.
More at aacm.org
Join the Conversation
Follow the event with #AAKCentennial