Manifest Courage (Colombia)
Sun. Jul 11, 2021 at 11:30am EDT
$52.00 - $101.00
All Ages
Event Stats
$52.00 - $101.00
All Ages
Event Description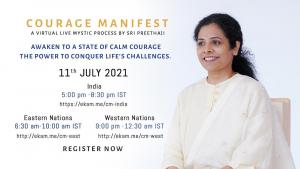 COURAGE MANIFEST: A VIRTUAL LIVE MYSTIC PROCESS
SUNDAY, JULY 11th
8:30AM – 12:00PM PDT/11:30AM – 3:00PM EDT
MANIFEST is a mystic process led by Sri Preethaji where possibilities in the realm of consciousness are brought into the world of reality. You will be guided beyond your everyday mind into the field of universal consciousness to manifest a choice destiny.
Why is COURAGE MANIFEST so POWERFUL?
During this 3½-hour program, Sri Preethaji will give participants powerful keys to:


Unlock anxiety that originates from earlier lifetimes


Dissolve inner turmoil stemming from genetic habits of the parents


Release consuming fears that arise from current life circumstances


During the mystic processes and the limitless field meditation, Sri Preethaji leads participants into a state of calm courage, a state of equanimity, to face life's challenges and battles with ease.
Sri Preethaji, world-renowned mystic, philosopher and luminary, has led millions on a profound journey into consciousness, helping them find the healing, joy, relationships and purpose they are seeking. Being in Sri Preethaji's presence, even virtually, impacts the hearts, minds and consciousness of everyone fortunate enough to participate in her programs.
MANIFEST is a powerful, three and 1/2 hour online process that will Awaken your Consciousness, beyond the mind, beyond the brain, to brilliance!

CHOOSE PREMIUM!

In addition to the powerful three and 1/2 hour Manifest Process, when you choose Manifest Premium you will receive two 90-minute immersion processes with EKAM Faculty following the MANIFEST Process.  Click here for dates.


Wisdom Video - You will listen to the timeless wisdom from Krishnaji and Preethaji that will give you further clarity into what you received in Manifest.


Review of Manifest - You will review the important wisdom points of the Manifest to give you a deeper understanding and to reconnect to the wisdom received in the Manifest.


Practice - You will receive a practice that you can do every day until you attend the next Manifest.


Process – In addition, you will also be led through a process with a specific intention to reconnect you with the process you experienced at the Manifest.


Blessing Meditation - You will be led through a blessing meditation (either live or recorded) with the founders, either Krishnaji or Preethaji, to receive the complete fruit of your process.


Q&A Session - To give you further clarity, with EKAM faculty.

REGISTER NOW!


Participate with your families and friends and Awaken to Courage that is born from the heart, a courage that has the power to dissolve obstacles.