Manifest Health
Sun. Jan 24, 2021 at 11:30am EST
67.00 CAD $ - 135.00 CAD $
All Ages
Event Stats
67.00 CAD $ - 135.00 CAD $
All Ages
Event Description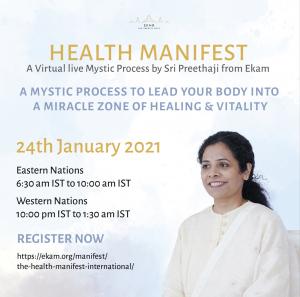 MANIFEST series: AWAKEN TO GREAT HEALTH

A Virtual Mystic Process by SRI PREETHAJI

DATE: Sunday, January 24, 2021

6:30am Hawaii / 8:30am PST / 9:30am MST / 10:30am CST / 11:30am EST

During this powerful three-hour global Manifest, Sri Preethaji will lead you on a sacred insightful journey into the health of your body, mind and consciousness. All who participate will receive:

- Great strength of immunity to help the body fight and overcome disease and return to extraordinary health and vitality

- Awakening your consciousness to the power zone of healing

Sri Preethaji will connect us with the immeasurable power of the DIVINE for healing and protection in the Limitless Field Meditation, where miracles happen at the sub-cellular level to rejuvenate your body, mind and consciousness.

About Sri Preethaji ~

Sri Preethaji is a modern mystic who has led millions on a profound journey into consciousness, helping them find the healing, joy, relationships, and purpose they are seeking.

Choose from:
MANIFEST Regular - 3 hr. process on January 24rd

MANIFEST Premium - Includes process on January 24rd, PLUS two 90-minute follow up calls, January 30 and January 31

Start the New Year with the extraordinary gifts of Awakening to Great Health!

Please encourage your soul circle to particpate in Manifest.