200Hr Mantra Teacher Training & Study Immersion
Sun. Jul 1, 2018 at 12:00am EDT
$2,205.00 - $3,495.00
18 and Over
Event Stats
$2,205.00 - $3,495.00
18 and Over
Event Description
Early Bird: Register before May 1st, 2018 for reduced pricing. Training Course Fee only $2790.00.
The continued teachings of Namadeva Acharya (Thomas Ashley-Farrand).....
Join Senior Teacher, Rajeshwari Gretchen Carmel, and guest teachers, an extraordinary opportunity to immerse in the ancient sound of Sanskrit mantra. Explore the transformative power of chant, ceremony, yoga and meditation
– a sanctuary for spiritual exploration and renewal. 
RETREAT OVERVIEW:
The 200-Hour Mantra Teacher Training & Study Immersion in Costa Rica is a 21-day immersive experience. You will cultivate gifts of true spiritual knowledge, deep personal transformation and rejuvenation, as we honor the sacred rhythms of nature in supportive community, in one of the most beautiful places on earth! You will learn how to:
~Deepen your knowledge and experience of Sanskrit mantra,
~Learn the healing and transformative powers of applying Sanskrit mantras to common problems in everyday life,
~Facilitate others and prescribe mantra formulas for their use,
~Teach and apply mantra in yoga classes, body-mind related therapies plus additional populations/venues, 
~Tap into the power of mantra as a personal study immersion for self-awareness, healing, personal transformation and freedom!
Guided with care by our expert teachers, our immersive curricula will prepare you to teach mantra related practices with confidence and depth of knowledge, cultivating your unique style and fullest potential. 
COURSE OUTLINE AND CONTENT:

~History of Mantra, Scriptural Background, Lineage of Namadeva Acharya
~Overview of Yogic Philosophy; Patanjali's 8-fold Path, Yoga Sutras, Teacher Ethics~Introduction to Seed Sounds, Classical Mantras, Sanskrit Hymns
~Mantra Japa Meditation: Various Disciplines (both verbal & written), Steps for Practice, Mala Use, Altar Practices
~Mantra Applications; In-depth Study, Meaning & Use
~Participation in 21-Day and 40-Day Mantra Disciplines
~Anatomy and Physiology, Physical/Energetic; Chakras, Prana, Nadis, Koshas, Karma
~Energetics of Mantra; Sanskrit Alphabet, Pronunciation, Power of Sound; how mantras work directly on our energetic bodies for deep transformation
~Yoga, Pranayama, Meditation
~Basics of Ayurveda; Doshas, Gunas, Healthy Lifestyle & Daily Self-Care~Gods & Goddesses; Principles, Symbology, Application
~Transformation through Sacred Art & Vedic Ceremony
~Guest Kirtan Artists; Devotional Music, Song & Mantra
~Mantra Teachings; Class, Workshop, Retreat Design
~The Art of Teaching; General Principles
~Mantra as a Business; Key Elements, Vision & Marketing
~Practice Teach Sessions, Certification, Graduation
Sanskrit mantra is a vital part of the yogic path; it combines sound, awareness, sense withdrawal, focus, concentration, and meditation. Mantras can be used as a primary practice and can also be combined with the physical practices of yoga. With the increased popularity of yoga today and the abundance of certified yoga teachers around the globe, it is vital to merge these practices with authentic and proper teachings. This one of a kind training is a unique opportunity.
CURRICULUM CONTENT HOURS
(as determined by Yoga Alliance)
Teaching, training and practice: 100
Teaching methodology: 25
Anatomy and physiology: 20
Yoga philosophy, lifestyle and ethics for teachers: 30
Practicum: 10
Other: 15
Total: 200 
TRAINING BOOKS AND MATERIALS:
On the first day of the training, students will receive a complimentary 200-Hour Mantra Teacher Training & Study Immersion Manual, a supplementary Mantra Handbook, and recorded materials by Rajeshwari.
Additional Required Reading: (not included in tuition fee)
1) Healing Mantras by Namadeva Acharya
2) Shakti Mantras by Namadeva Acharya
3) The Yoga Sutras of Patanjali (suggested version by Sri Swami Satchidananda)
Suggested Books and Recordings:
Books
1) Chakra Mantras by Namadeva Acharya
2) Gayatri, The Highest Meditation by Sadguru Sant Keshavadas
3) Ramayana at a Glance by Sadguru Sant Keshavadas
4) Yoga & Ayurveda: Self-Healing and Self-Realization by David Frawley
5) The Shakti Coloring Book by Ekabhumi Charles Ellik
Recordings 
All recordings by Namadeva Acharya are highly recommended!
Specifically: Healing Mantras, Mantras of the Goddess, Gayatri Mantra Meditations
Additional Online Requirement: This 200-Hour training is certified under Yoga Alliance. We will meet 180 hours of contact training during the 21 days of this retreat. Additional online requirements pre and post retreat, for a total of 20 hours, will be required for completion of certification.
Daily Training Schedule: We'll honor the sacred rhythms of nature and embrace each day with early morning chant, meditation and gentle yoga;  Morning and afternoon sessions consist of lecture, discussion, study, group chant, practice teach sessions; Evening sessions conclude the day with healing programs, review, homework assignments, integration and relaxation.
Ample time is given for delicious gourmet meals with extra free time to explore local adventures or to relax and enjoy Blue Spirit's amenities; salt-water infinity pool, koi pond, Guiones beach, café, gift shop and spa services. Outdoor excursions such as surf lessons, SUP, horseback riding, waterfall hike and birdwatching can be arranged.
Included in the retreat package:
~200-Hour Mantra Teacher Training & Study Immersion tuition fee
~Training manual, supplementary mantra handbook, and recorded materials by Rajeshwari
~Additional online requirements pre and post training
~Accommodations of your choice at Blue Spirit Costa Rica from July 21 - August 11, 2018
~Three delicious consciously prepared meals a day, served buffet style, fresh tropical fruits – all local.
~Filtered water and tea all day
~Personal retreat time
~Graduation ceremony
 Airfare, airport transfer, meals and expenses off site, additional required training books and hotel gratuity are NOT included. Blue Spirit can also help coordinate optional activities, a variety of tours and spa services. The cost of these activities are NOT included in the retreat package.  
TRAINING COURSE FEES:
Super Saver: Register before Feb. 1st, 2018 for the lowest pricing! Training Course Fee drops to $2590.00.
Early Bird: Register before May 1st, 2018 for reduced pricing. Training Course Fee only $2790.00.
Standard Rates: The standard rates are a great value for registrations May 1-July 21, 2018. Training Course Fee is $3190.00.
ACCOMMODATION DETAILS:
Group reservations have already been made. Please note it is the policy of Blue Spirit that all retreat participants must be booked in a room on site. 
Accommodations are from July 21 - August 11, 2018 (21 nights), the price below is for the Eco-Cottages, double occupancy. If upgraded accommodations are desired, please contact Rajeshwari at [email protected].
Eco-Cottage: $2205.00

The cottages are beautifully situated in lush vegetation, allowing for a sensual being-in-touch experience with nature. They are simple and natural wood frame structures with screening for natural ventilation. Each Cottage sleeps two people (2 twin beds) and has a private bathroom with ambient temperature water shower, or you can use our shared bathhouse with hot water showers. Everything runs on solar powered electricity to provide a comfortable and ecological setting. The Eco-Cottages are situated below the Main Building and involve a short hike up a stone stairway to get to the Main Building. Each Eco-Cottage has a safety box large enough to fit a 17″ laptop computer.
*There are approximately 60 full-time Costa Rican local staff, working daily to ensure you have a pleasant and safe stay with housekeeping, kitchen, gardening, security, and more. Blue Spirit will add a per person charge of $60 per week to your room bill for staff tips. These are distributed equally to all of the Costa Rican staff. 
MEALS:
Meals are prepared with both health and pleasure in mind. The food is fresh and locally and organically grown when available. Each breakfast, lunch, and dinner is served buffet-style. Lunches and dinners include a fresh salad bar.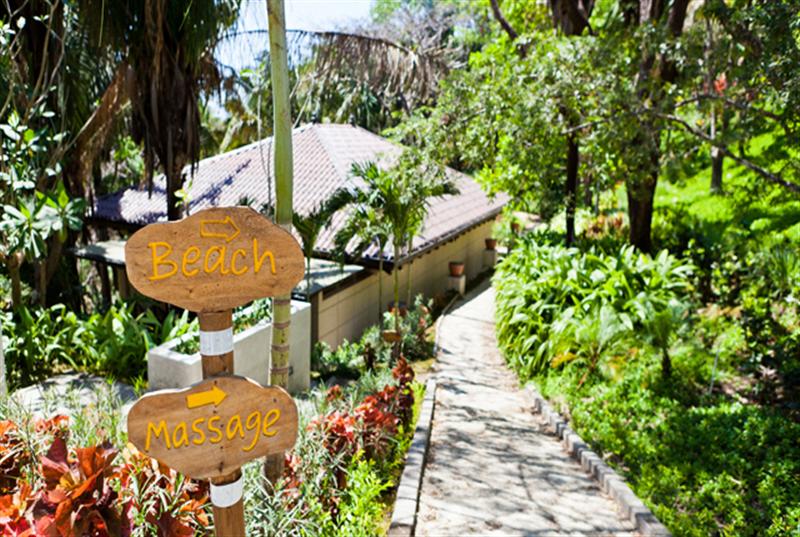 HERE'S HOW TO REGISTER:
1) submit application form, this is provided during the Course Fee payment process 
2) upon exceptance into the program, payment is due to secure your spot
3) Super Saver rates apply until February 1, 2018
4) Early Bird rates apply until May 1, 2018
5) Standard Rates apply until July 21, 2018
You can choose to pay the full amount at once or pay with a convenient payment plan!
TRAVEL INFORMATION:
There are two international airports in Costa Rica. Liberia International Airport (LIR) and San Jose International Airport (SJO). It is recommended to fly into Liberia International Airport, as it is the closest airport to Blue Spirit.


Blue Spirit Costa Rica offers airport transfers to / from Liberia airport on Saturdays only, at select times. Transportation to and from Liberia airport is only a 2 hour scenic drive from Blue Spirit. The cost ranges from $60 USD per person (3 or more per car) to $180 USD (private transfer), paid directly to Blue Spirit Resort.


You are responsible for coordinating and payment of your ground travel to/from the Blue Spirit Retreat Center. If you choose to pre-arrange your ground transfer to/from the resort with Blue Spirit, please submit the Blue Spirit's Shuttle form available on the Blue Spirit Costa Rica website. 


Participants flying into San Jose Airport (3.5 to 4 hours away), or participants flying into Costa Rica early for personal travel will need to arrange their own transportation to and from Blue Spirit.


Blue Spirit Costa Rica
Guiones sur, Playa Guiones
Nosara, Guanacaste
Costa Rica
CHECK IN & CHECK OUT TIMES at Blue Spirit:
General Check In time for all rooms is 4:00 p.m.
General Check Out time for all rooms is 10:00 a.m.
Guests luggage can be stored at the Front Desk at no charge before or after the indicated hours on arrival and departure days.
TRAVEL DOCUMENTS:
Passports are required to enter Costa Rica, some travelers may require a visa. Identification such as a driver's license or birth certificate are not valid for travel in Costa Rica.
It is advisable to make a copy of your passport, which you will need to carry with you at all times. You should leave your original passport in the safety box at Blue Spirit.
No shots or immunizations are required to come to Costa Rica.
DEPARTURE TAX: There is a departure tax to be paid of $26 at San Jose or Liberia airport when you leave Costa Rica. It can be paid in cash (US$ or costa rican Colones) or with credit card. 
TRAVEL INSURANCE:
We strongly recommend purchasing Travel Insurance for your trip. Arrangements have been made through Discover Europe Ltd.  You may contact them directly:
Discover Europe Ltd., 603.563.7077
Accam Number F204089
CANCELLATION POLICY:
In the event of cancellation:
~All accommodations at Blue Spirit are non-refundable.
~If cancelled before May 1st, 2018, the training balance may be applied to a future retreat with Rajeshwari within 2 years. If cancelled after the May 1st deadline, forfeit all retreat money rendered.
ABOUT RAJESHWARI GRETCHEN CARMEL: Rajeshwari Gretchen Carmel is the Founder/Training Director of the 200-Hour Mantra Teacher Training & Study Immersion, E-RYT 500, Yoga Teacher/Yoga Therapist, Dancer, Traditional/Usui Reiki Master, Senior Sanskrit Mantra Teacher in the lineage of Namadeva Acharya (Thomas Ashley-Farrand) and ordained Pujari/Vedic Priest. Gretchen is the studio owner/director of The Yoga Space in Keene, NH. She has been teaching yoga classes, workshops and retreats for over 20 years presenting at yoga studios, conferences, Kripalu Center for Yoga and Health as well as other retreat centers. 
ABOUT BLUE SPIRIT COSTA RICA: Blue Spirit Costa Rica is one of the foremost world-class yoga and meditation retreat centers and provides an extraordinary setting to all who are dedicated to spiritual transformation, personal development, and environmental sustainability. Perched on a hilltop that overlooks the Pacific Ocean and a three-mile long white sand beach that is protected as a turtle refuge – Blue Spirit offers an extraordinarily beautiful and natural setting on one of Costa Rica's finest beaches.
Located in Nosara on the northwest coast of Costa Rica, Blue Spirit Retreat is remote yet accessible; only a two-hour-drive from the Liberia International Airport, which has frequent daily flights from all over the United States and Canada. Once you arrive, you will find yourself worlds away in a region renowned for its spectacular scenery, excellent restaurants, local cultural events, and an international community that gives the region a vibrantly creative and peaceful atmosphere – a combination you won't find anywhere else in Costa Rica or perhaps the entire Western hemisphere.
Blue Spirit is located in one of the world's Blue Zones which inspired the name Blue Spirit. According to author Dan Buettner, the Nicoya Peninsula is one of five Blue Zone's in the world: a Blue Zone is an area where people live the longest and report the highest levels of well-being. While visiting Blue Spirit, you will feel the resonance of a vibrant, inspiring, and healing energy, because of the rich subtropical environment, and the cultural lifestyle.
Your stay at Blue Spirit offers you a comfortable and elegant accommodation of your choice, delicious gourmet vegetarian cuisine, a salt-water infinity pool, koi pond, café, gift shop, spa and longevity services, outdoor excursions and complimentary wireless service.
WHY COSTA RICA IN JULY? by Liza Constable, The country of Costa Rica contains some of the broadest biodiversity in the world: 12 different life zones. The rare tropical dry forests of the Guanacaste province spend most of the year in parching heat. But in July this region is lush and wild, the much anticipated green season soaking the ground, the trees leaf out, and the wildlife rejoices. Days filled with birds, morning rains, frogs, reptiles, coatis, howler monkeys, exotic plants, abundance. Evenings you can watch and hear the distant rainstorms out off the coast, and marvel at the light show. Mornings you wake early with the birds and monkeys, each new sound, song, and brightly colored bird an amazing gift. It's an active jungle. While there can be days of rain that extend beyond the morning, the sound of the rain loudly drumming on the roof is part of life and this surrounding ecosystem. 
 OM SHANTI SHANTI SHANTI