RelaxPansion Fest 2020 - Inspiration - Come Unity - Inclusivity
Fri. Jun 19, 2020 at 5:00pm - Mon. Jun 22, 2020 at 11:00pm PDT
75 days away
$22.00 - $234.00
All Ages
Event Stats
75 days away
$22.00 - $234.00
All Ages
Event Description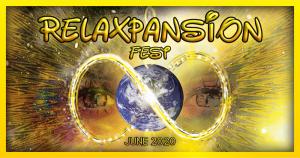 We are holding this Vision with you, to gather together to get here with Joy! "The Finest Fest in the West", RELAXPANSION FEST taking place June 19-22 at Jackson WellSprings Hot Springs resort in Ashand Oregon - includes camping options, pool/spa passes and/or full weekend packages. A "Festination weekend"!
We wish to welcome & include you in 2020 at the fast-growing & pioneering RELAXPANSION FEST - where a welcoming sense of inclusivity combines with community building & inspiration, an amazing gathering of top-level musicians, New Earth Speakers forum, Yoga &

movement

leaders, Visionary Art, DJ sets

.
Early bird weekend packages allow out of towners to join us with the full offering of camping, pool/spa & all access pass - + June 22nd Monday post-Fest included for free, with purchase of weekend pass (local or out of towners) with Porangui, Mikey Pauker, Sasha Rose, Kayla Diana + (Monday only tickets are also available!)

Every festival ticket purchased will plant ten trees via our Sister Sponsor, Treesisters! See https://treesisters.org to learn more & participate!
Organic Vegan food, Family Friendly Children's Play/Arts area, Fabulously diverse Artisan Vendor Village, Quiet spaces by the creek, Meadow hikes and so much more. Learn first-hand about RelaxPansion!

Our vision is to engender Unity, Peace & Love, in an open field of Transcendence. To present a diverse, established and newly discovered Artistic lineup that spans Conscious expression that draws from many genres, modes and backgrounds, as well as Sacred Art, Movement expression, Altars to invite beauty and truth, and a "New Earth Peace Pavilion" Speaker's forum with relevant, impactful topics that inspire discussion and interaction. A Global Days of Peace Panel will be hosted by Chris Deckker of Uplift Connect Saturday & Sunday. Our festival model is one of transparency, a "join with friends" vision where all artists/staff/attendees rise and fall as One.
Artists:

Elijah Ray

,

Donna De Lory

,

Adey Bell

,

Olox

, Stellamara,

Girish

, Eliyahu Sills,

Chad Elliott Wilkins

,

Jens Jarvie

,

Katie Wise

,

BrightSide Blue

,

Honey of the Heart

,

Joss Jaffe

,

Love Eternal

,

Pollyanna Bush

,

James Marienthal

+ Monday Post-Fest 6/22 w/Porangui, Mikey Pauker,

Sasha Rose,

Kayla Diana +
Full use of onsite Hot Springs Pool/Spa is included w/weekend passes as well as camping availability in a Sacred meadow w/Goddess temple on 20 acres of land in pristine beauty. For more info, call 541.488.8282, Lloyd Barde Productions.
There is also a "Post Fest" Monday, June 22 which is free to all weekend pass holders & available for separate admission to all others that will feature Porangui, Mikey Pauker, Sasha Rose, Kayla Diana & more!

Stay tuned!
Presented by RelaxPansion Unlimited. Come Unity! Come One, Come All!

​