Shylah Ray & Mary Isis @ Storyteller Sound
Thu. Jul 20, 2023 at 6:00pm PDT
Event Description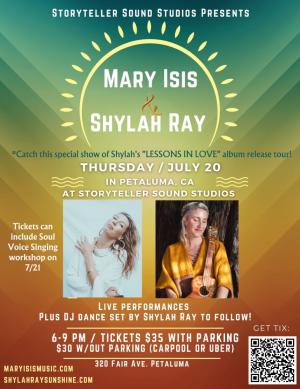 Storyteller Sound Presents: Shylah Ray & Mary Isis 
Join us on Thurs July 20th at 6pm for a beautiful musical offering, with a full live set from each artist, plus a DJ Dance Set by Shylah Ray to follow!
The event will be 6-9pm, held at Storyteller Sound in Petaluma, CA
The following day, Fri July 21st,  Shyala Ray will be holding a Soul Voice Singing workshop from 6-8pm.
Introduction to Soul Voice Singing is an opportunity to learn more about your voice and how to use it effectively by discovering your strengths and challenges. Learn more about the connection between the mental, emotional, and physical elements required for full vocal expression. All Ages and Levels; no previous experience necessary.
About Shylah Ray
 An Algonquin native of Canada, Shylah Ray Sunshine is an award-nominated influential vocalist, musician, mother, and Soul Voice Singing coach. Coming from humble roots, she dreamed of becoming a pop star and began her self-taught journey of singing, piano, and percussion at a young age. After years of honing her craft and singing at karaoke & open mics to develop her stage presence, a visit to LA resulted in a spontaneous and serendipitous band invitation. Shortly after, Shylah began her journey as a mother and gave birth to her first daughter at home at only 20 years old.
The transformation into motherhood became a powerful and definitive catalyst for her journey as a songwriter, and she began writing and sharing her music in the Los Angeles area in 2009. Her talent was quickly recognized, leading to her rapid success as a featured artist on several documentaries, albums, and social media platforms. Her initiatory momentum continued to grow, resulting in a multitude of celebrated singles, collaborations, and live performances.
Shylah's musical sound and style are a blend of Neo-Soul, R&B, Blues, and Hip-hop, enrapturing audiences with her gospel-like voice, sensual tones, and ultra-moving lyrics. Inspired by her lifelong idols Whitney Houston, Lauryn Hill, Fela Kuti, and Bob Marley, Shylah's music is most frequently compared to and influenced by the vocal style and spiritual deliverance of Alicia Keys and Erykah Badu.
Shaped by these revolutionary artists, Shylah's mission as a musician is to inspire her audience to live boldly and authentically, and use their voices to create change. Her songs are rooted in radical emotional transparency, spiritual healing, empowerment, indigenous representation, equality, cultural and political change, community connection, and environmental respect. Her hit single "Existence", often referred to as a power anthem, has achieved placement in dozens of advertisements and was nominated for a Hollywood Music Media Award for Best Song with Message/Social Impact.
https://www.shylahraysunshine.com/about/
About Mary Isis
Mary sings her soul songs from the heart and in the spirit of ceremony, with the prayer to awaken, uplift and empower those who listen. She weaves her lyrical expressions with humble praise for the universal human experience and the mystical and miraculous nature we are all a part of.  She has been producing her own music for the past 8 years and loves supporting people in their transformational journeys through singing, the healing arts, and integration coaching. Learn more about her offerings on her website (www.pathwaysoftransformation.com)
and her social media 
@maryisismusic