True Nature Presents SHIMSHAI in Asheville
Sat. Nov 9, 2019 at 7:30pm EST
Get Tickets
Details
Comments
Event Description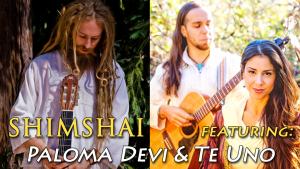 Shimshai returns to Asheville, NC bringing his unique blend of sacred world, acoustic reggae and mystic folk music infused with original and traditional wisdom and uplifiting lyrics of truth. Join us on a journey of sound as we chant and sing together ancient mantras and prayers and continue to raise up the vibration into ecstatic moments of dance and celebration!
Featuring Paloma Devi & Te Uno, and local Luna Ray.
Paloma Devi has been described as "The Golden Voice of the New Age." She is a soul singer, ethnic dancer and seasoned Yogini, and along with her partner, medicine musician Te Uno of The Medicine Box, they are expanding the global conscious community with their gifts of wisdom, love and devotion.
Join the Conversation
Follow the event with #ShimshaiMusic