Wah! Yoga and Self-Healing Class
Thu. Jan 3, 2019 5:30pm - 7:30pm EST
Event Description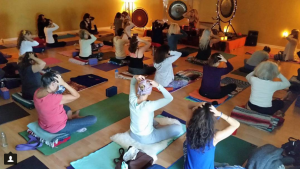 Get ready to move, breathe, and deeply relax! Wah! teaches yoga and plays live music at the end of class. As described in her book "Dedicating Your Life to Spirit", Wah! has taught to athletic, handicapped, the young and the old, the well and the ill, offering tools for wellness and self-healing. Her teachings come from Anusara, Bihar, Kundalini Yoga and various healing traditions. Breathwork, moving postures, self-healing practices, deep relaxation. All levels welcome.
You can expect:
​- different kinds of breathing and breathwork




- clearing through tapping, cupping, and meridian stimulation




- moving yoga postures




- deep relaxation with guided imagery and live music by Wah!




- a short meditation




- PLUS 1/2 hour of singing with Wah!
Wah! is an author and musician making music and teaching for over 25 years. She brings both intellectual concepts and an experience of healing and receptivity to yoga centers, churches, cancer clinics and communities. She is an innovator in her field, using a deep understanding of music and healing to create profound transformative events.

​"Wah!'s experience as a teacher and author allow her to speak with confidence about both the inner and outer worlds. Wah! emanates a beautiful expression of wholeness." - The Dr. Julie Show: All Things Connected WBLQ AM Talk Radio

​Limited space. Tickets are $30 in advance. On the day of the event, tickets are $35 (cash only at door). Tickets are also available at Prana Yoga and Healing Center (before and after classes). Sponsored by Elysian Fields in Sarasota and The Village Mystic in Bradenton.

Wah! has two other events in Sarasota, A kirtan and a healing concert at Bishop Planetarium. For more info about these events, go to OceanofSound.org, contact us at [email protected] or call us at (941) 356-1989
Join the Conversation
Follow the event with #oceanofsound
View Everyone
Who's Going?

Bonnie F

Susann H

Denise F

Phoebe A

nancy m